The next Capital Mineral Club meeting is scheduled for Saturday June 10th, 2023 starting at 12:00 noon at NH Sno-Shakers Clubhouse building in Canterbury, NH.
We will be having our annual Cookout and Tailgate Party on June 10th at the Sno-Shakers Clubhouse starting at Noon, come early to help setup.
If you plan on coming (please respond to Steffen Not the CMC-MEMBERS LIST) with your food choices of burgers, hotdogs and chicken.
Also if you are planning on bring a side dish or dessert let me know so that I can coordinate the side dishes and desserts, that way we don't wind up with 15 of the same thing.
I will send out updated list of what people are bringing.
As for the Tailgate party, bring things you want to display, show off or sell.
All Future Rockhounds of America should come to receive their latest earned Badges and enjoy the afternoon and cookout.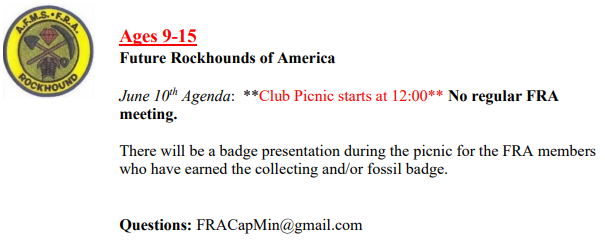 Google maps link to NH Sno-Shakers Clubhouse.
All future meetings will be the second Saturday of the month.
---
Educational Links:

---
New Hampshire Minerals: